NEWS
COMPETITIONS
25 November, 2009
Folding BusStop - International competition in Utah U.S.A.
Repetition, variation, modulation
The competition is collaboration between the Department of City & Metropolitan Planning and Department of Communication at the University of Utah and the Utah Transit Authority. The project is supported by U.S. Federal Transit Administration grant 2008-DOT-FTA-PTPP: Innovative Small Research Projects to Advance Public Participation Related to Public Transportation Planning. It took part in 2009 and the Folding bus stop came 1st among 260 projects.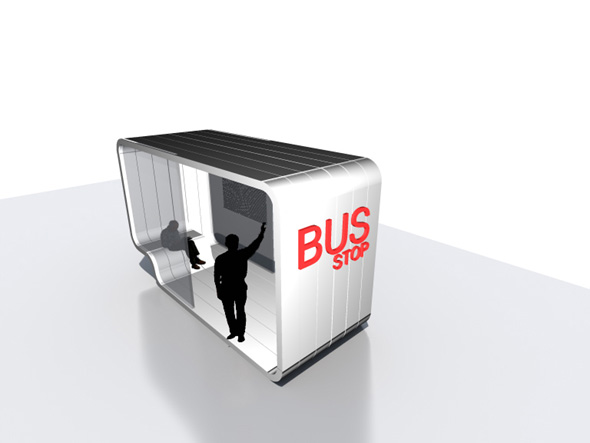 The participants had been asked to design for a specific bus stop location, outside the University of Utah, but there was a thought behind the competition that the bus stop could be extended in more sites along the city. The idea behind the Folding bus stop was to design something fresh at could be used as a prototype, and that could be repeated in other cases according to the needs of the site.
The creation of the Folding BusStop

Six stripes which have exactly the same size (length and width), put next to each other, being stretched and given various shapes form the bus stop. These stripes do not just repeat and vary though. Having the same perimeter when their ends come together, the stripes form a system, consisting of 6 modules. The stripes react to stretching and folding and so does the whole system. A modulated shelter is the new bus stop introduced.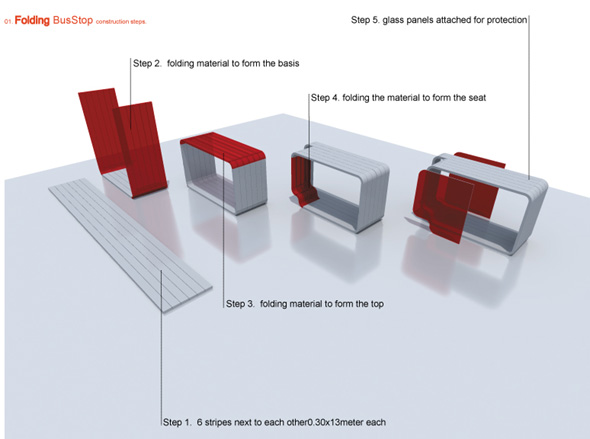 The structure is prefabricated and you only need to fix the various parts together in site in order to be ready to work. The material introduced is fiberglass.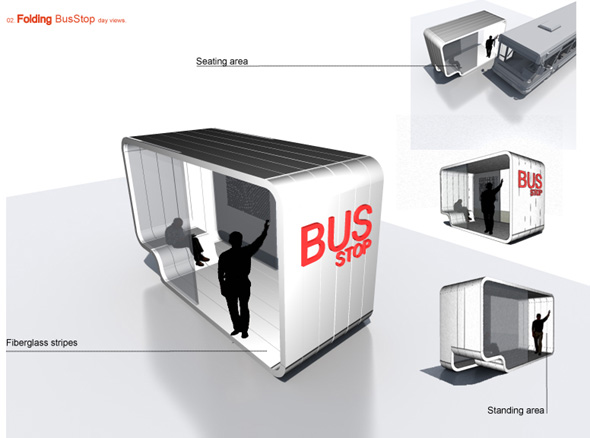 During the night the bus stop is lighted in order to be easily seen, be safe and become an iconic structure. More than that a big sign of a bus stop allows you immediately understand what it is about.