NEWS
BOOKS REVIEW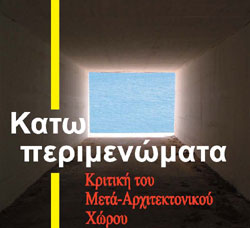 01 May, 2009
Book review: On Post-Architectural Space by Antonis K. Antoniadis
Analyzing the post-architectural space in Greece with sensitivity on architecture and the environment. 
By Vassilis Mistriotis
Eleftheros Typos Publications
53 Valtetsiou St., Athens
Exarcjeia -T. +30-210 380 20 40
Knowledge comes as a result of theoretical formation and practical exercise, as well as social experience. No doubt that architect Antonis Antoniadis has thorough knowledge on art on which he works for years with respect. His new book titled On Post-Architectural Space (Katoperitomata: Kritiki tou Meta-architektonikou horou) radiates his agony on architecture and the environment. The author wrote 46 essays in a plain and emotional language to tell his stories and give serious answers in ethical issues.
The book has four parts:
• the Architecture of Anguish, to which the author referred for the first time in 1982 in his book The skylight
• the Local-aesthetics, a collection of "post-graduate studies", as he calls it, within the Greek laissez faire, which was inspired by his life on the island of Hydra
• the Advisories with texts on people and situations that he has experienced, which he believes that they will inspire many readers as they have inspired him
• the Critiques, a part that aims to re-examine the history of Greek architecture of the 20th century, relieved by the problems of endless quarrels and nepotism that have really left their dark mark on the local architecture during the second half of the twentieth century.
Critics and professionals in the field who read the book, will focus on the author's analyses when he refers to the inconsistency between the actual construction of a project and the original study.
In my view, Antoniadis uses the reality of the arbitrary building of extra spaces to existing edifices to highlight the agony of an unhappy and ignorant citizen who just thinks he's going to be richer by simply adding illegally some extra square meters to his home.
Antoniadis also unveils the corruption of the state authorities that take part in this illegal dance that makes illegal profit for many. He also points his finger on some architects who directly or indirectly, in practice or theory, help maintain or even cause the misery that the everyday people experience.
Some readers might say that this book is kind of nihilistic, but I'd suggest they read it over more carefully and then, after they finish, take a good look at its cover...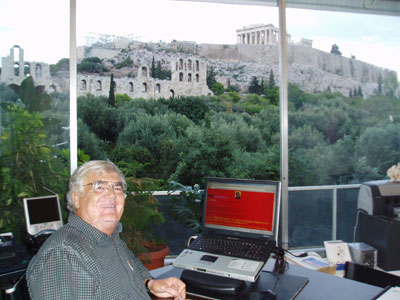 Adoniadis visit greekarchitects.gr
Vassilis Mistriotis