NEWS
BOOKS REVIEW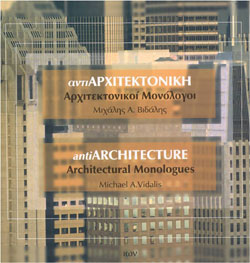 09 June, 2008
"anti∙Architecture: Architectural Monologues"
The book of architect Michael A. Vidalis attempts to reconstitute architecture, piece by piece, as if an old puzzle that's been put away and forgotten.
At times the role of architecture is narrative, at times alluring, at times soothing, at times symbolic, while at times, subversive … Through a critical or pedagogical approach, the author takes us on a journey into the magical world of architecture, ending by proposing, or better, by foreseeing the path architecture may take into the 21st Century, as this results from the above investigation.
For the first time an attempt is made to define marginal art; also, introduced are elements of short-term psychotherapy, applicable both to the avant-garde as well as to the urban environment (In the case of the second, as a means of a preventive urban architecture).
It is an undertaking whose goal is to bring architecture closer to the masses, reveal its beauty, its sensitivities and its poetics, as these are influenced by various determinants, and tie it with the notion of quality of life. To engage in a critical discourse, as well as to lift the veil of misunderstanding of this utilitarian, social and historic art.
"The aim of the architect is to go further from, here we want a door, there two windows, but to help his client discover his hidden passions… Architecture aids everyday life…".
(Claude Parent, French Architect).
"Trying to bring even more joy to man's life. This is what architecture is".
(Aris Konstantinidis, Greek architect).
(Athens: ΙΩΝ Publishers, 2005. English, Greek)

MICHAEL A. VIDALIS
Curriculum Vitae (Short Version)

Michael A. Vidalis holds a Master of Architecture degree from Ohio State University, U.S.A., where he studied under Peter Eisenman. He is versed in a wide building typology. He has been a Lecturer at Virginia Marti College, U.S.A. (1988-89), as well as at AKTO / Middlesex University (2007 – present).
After a ten-year stint in various architectural offices in the U.S.A., he returned to Athens, Greece, where he founded an architectural firm. He has been a Member of the Editorial Board of the professional journal "Architects" published by the Society of Greek Architects (2002-4).
He has served as a Member of the "Permanent Committee on Ecology and Environment" of the Technical Chamber of Greece (2003). He has been listed in the "Who's Who in Interior Design" (International Edition, 1994-1995).
He was a regular contributing author to the journal  Ecotopia ("Οικοτοπία"). He is an Expert Witness for the Technical Chamber of Greece as well as for the courts of first instance of Athens and Piraeus.  He paints and is interested in the contribution of art, ecology, and the social sciences to architecture. His book "anti∙Architecture: Architectural Monologues" (Athens:ΙΩΝ Pulishers, 2005) was prefaced by Professor George Sarigiannis.