STUDENTS PROJECTS
PROJECTS2012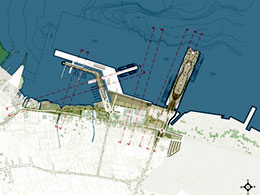 10 June, 2013
Souda Port Passenger Station, Souda Bay,Chania,Crete
The port of Souda with its multifarious uses (passenger station, tourist station, water sports center, educational center, fishery center) constitutes the main coastal connector between western Crete and the other parts of Greece.

Student : Αngeliki Terezaki
Supervisor: D.Tsakalakis
Technical University of Crete
Presentation date : October 2012
The port of Chania was always of extreme importance for the island of Crete because of its strategic position. Its present form and the lack of port infrastructure make it an inhospitable place and a tough border between the residential area of Souda and the sea.
The dissertation is about the reconstruction of the port of Souda zone and the creation of appropriate welcome and service infrastructure for the constantly increasing number of passengers that reach Souda every year. The upgrading of the coastal zone targets the integration of the port into the residential area of Souda as well as its familiarization by the individuals through the management of the flow of people and cars. In addition, the creation of a new center is ventured that will function as an attraction for the town of Chania through a variety of activities (culture, entertainment, tourism, trade, water sports etc. ) that could give life to the port all day long boosting at the same time the local economy.
In the epicenter of this suggestion lies the creation of a building that combines multiple functions: terminal for land-based vehicles ( cars, buses, trains) and marine vehicles (cruise ships, ferries) with places of cultural and educational interest (amphitheater, aquarium) with spots of tourist and social attraction (hotel, restaurant, commercial activities). The new building and its surroundings aspire to function as an attraction for the residents of Chania and the nearby areas as well as for visitors from other parts of Greece, Europe and the World.