STUDENTS PROJECTS
PROJECTS2013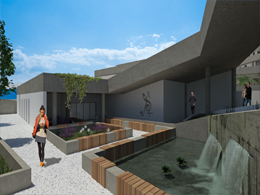 29 April, 2015
P.V.A. (Place of Vocal Research)
A place for expressing artistic aspirations through Vocal Art.
Student: Anastasiou Aimilia
Supervisor: S. Zafeiropoulos
Aristotle University of Thessaloniki
Presentation date : 20/02/2014
This project is about designing the 'Place of Vocal Research' (PVR). It is a project aimed at people who are interested in expressing their artistic aspirations through Vocal Art. The coastal land used in the project is located in Cyprus and specifically at the Pissouri bay which is located between the cities of Limassol and Paphos.
The primary goal was to create a space that would allow individuals or groups that are interested in expanding their vocal range to do so. Students will have the opportunity to take part in various classes amongst which their capabilities will be tested through group work, through experimenting via various vocal exercises and with the final goal of presenting their own creations.
The project starts off by being split into levels. The concept handled is the transition from a level of individual knowledge to a level of collaborative exercise that culminates in a union between the artist, the musicians and the audience. The end goal here is to provide the students with the three necessary skills; knowledge, experience and technique that will help them succeed in their cause. On the other level of the project, tracings of the region were used to ensure that all the necessary vantage points provided by the Pissouri bay were available. An effort was made to preserve the originality of the environment by having a minimal intervention on the surrounding nature and by ensuring that an unobtrusive integration of the building in the region took place that respected the morphological aspect of the area.
The project is characterized by two elements of compositions; a raised geometric peel that shelters the downward sloping ramp which leads to the Music Stage and a second ramp which guides the visitor to the Vocal Arts Workshop. These are the two main functions of the PVR and at each of them there are complimentary uses available. Specifically at the Vocal Arts Workshop there is a room for projections and lectures, 2 rooms for group activities, a kinesiology room and a refectory. The classrooms for individual teaching courses, a hall for rehearsals of students and the administration offices were placed at the top level.  The Music Stage has a capacity of 150 people and there is a restaurant which can be used before or after the scheduled presentations of students. Finally, research was conducted for the construction of the Recording Studios that are placed on the level of the Music Stage.