STUDENTS PROJECTS
PROJECTS2015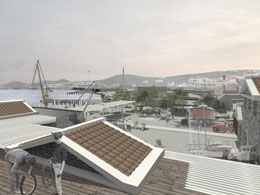 13 September, 2015
Reuse and reintegration
Historical industrial buildings in the coastline of Hermoupolis.
Student : Mavrouka Eirini
Supervisor: Petros Babasikas
University of Patras
Presentation date : June 2015

The work begun by the study and recording of the preserved industrial buildings in Ermoupolis of Syros. Specifically it focused on the southwestern coastline of the island, where until nowadays there are five industrial units, which was important to become part of a new functional unit, in order to be developed with modern productive activities, based on the industrial values of the island.
The present work is a continuation of the study carried out during the research paper entitled: INDUSTRIAL DEVELOPMENT OF SYROS-1830-1940, Industrial values of yesterday-libraries of tomorrow.
The industrial shells created during the industrial development of the city are now a "potential reserve" land in central locations in the urban site. This, incorporate and maintain very significant historical memories and industrial traditions and also contribute positively to development the wider urban environment, which formed part of an organized plan of conservation and modern development.
In the southwestern coastline of Syros, which starts from the shipyard Neorion and extends until Factory Ladopoulou on the west side of town, are preserved until today five industrial buildings , which after many years of disuse and deterioration, are looking for a new role as a reference system and orientation of the urban space.
This project attempts to revive those five old industrial sites into a new functional unit of modern productive activities based on their old uses, in order for them to acquire a new identity, to come across with modern needs and improve the quality the urban and natural environment.
The five industrial units of this region, that have survived to this day, are those of the Brothers Velissaropoulos, Karela-Aegean, the shipyard, Kornilaki and Ladopoulou, which will be included in the proposal as a network with a single functional structure.
The activities that will join the network of the reusable old factories, will pass through the process of planning and production, supported by an education network, technology and promotion and will be related to:
- Modern industrial uses according to the history of Syros (eg Textile Industry- Clothing, Leather, shipbuilding).
- Uses tailored to the needs of the island and the region at large.
- To be harmonized with the landscape of the city, as they have very low environmental nuisance, which does not affect its quality and it does not create major changes.
- Taking advantage of all the city's scientific and business potential, while the attraction of young people.