ARCHITECTURAL PROJECTS
RELIGIOUS
25 January, 2012
Chapel at Murcia
A new religious space in Spain. (Sanjay Puri)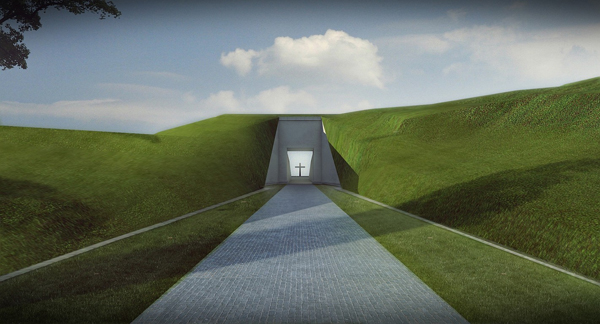 The small chapel in the town of Murcia in Spain, a project of the architectural office Sanjay Puri Architects in India, is undoubtedly a remarkable sample of contemporary architecture and the way new architects handle religious spaces.
The chapel is perched on a hill at a height of 90 m, by framing the sea view to the ocean. The visitors come to the church by a circular road, which leads to the hill. The entrance is a little doorway, which is placed between two artificial hills, which however, seem to be an organic continuity of the natural landscape. While someone moves to the entrance, the volume gradually increases as the space is mentioned by a cantilevered roof from concrete that folds up from one side.
The central idea of the synthesis is not only to create a space of religious faith but also the building to be integrated in landscape and to be open to the ocean. That is apparent with the design of a rectilinear water pool, on the edge of the hill, which is a very important element of the building. The cross, which is on the edge of the pool, shows at the same time, in background, the view in landscape. The impressive element of the synthesis is the waterfall that is created, as water moves in a lower level. The blur from the waterfall gives the sense of floating over the hill.  Complementary to that, is the minimal interruption of structural elements, giving priority to landscape to be shown.
The chapel has mainly a leaning level where the seats for the worshippers are found, while down from that are the functional spaces (office, WC). As the church is oriented towards the north and with a natural green cover on the south, a permanently cool place is created which is sheltered by the sun and the high temperatures of the town (16-38ο C). The design supports the more effective ventilation and reduces the need of mechanical system. As a result, that makes the chapel an ecological effective building.
Finally, as the project is designed in direct relation to the area and the microclimate of it, its simplicity which characterize the building in its function and design, whereas its glyptic sensibility, make the chapel at Murcia, a space not only for religious  devoutness but also a designation of the natural beauty.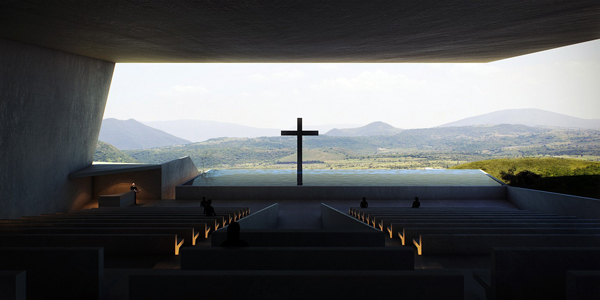 Architectural office: Sanjay Puri Architects
Space: Murcia, Spain
Year of the project: 2011
Information- images: courtesy Sanjay Puri Architects
The architectural office Sanjay Puri, with headquarters n Mumbai, India, was founded in 1992 and is consisted today of 72 architects, designers and urban planners. The office has participated presently in the design of 180 projects. In 2011 the team was participant at the same time in three categories in 2011 MIPIM Architectural Review Future Projects Awards in Cannes, whereas the team, until today, has won many awards on an international level.
Editing: Panagiota- Nefeli Mavroeidi