ARCHITECTURAL REVIEW
28 June, 2014
Brendan McGetrick interview at GreekArchitects
The installation "Fair Enough" in the Russian Pavilion at 14th Biennale di Venezia, welcomes visitors to a fair within a fair.

Since 1914 Russia has established itself as the world's largest and most radical urban laboratory. Decades of aggressive experimentation have produced architectural solutions for almost any demographic need or social ambition. These efforts are undertaken at great cost, and their usefulness is often undersold.

A section of the catalogue for the Soviet Pavilion at Pressa Cologne, 1928 by El Lissitzky. (Image: The Charnel House)
Rather than presenting a linear story of Russia's modernization, Fair Enough applies architectural history to meet contemporary needs. The exhibition takes urban ideas from the past century - some celebrated, some obscure; some seemingly outdated, some supposed failures - and gives them new purpose. To maximize its utility, each exhibited project is stripped to its conceptual essence. To illustrate their continued relevance, the concepts are updated and applied to challenges now confronting architects around the world. For easiest exchange, Russia's architectural innovations are expressed through the universal language of the international trade fair.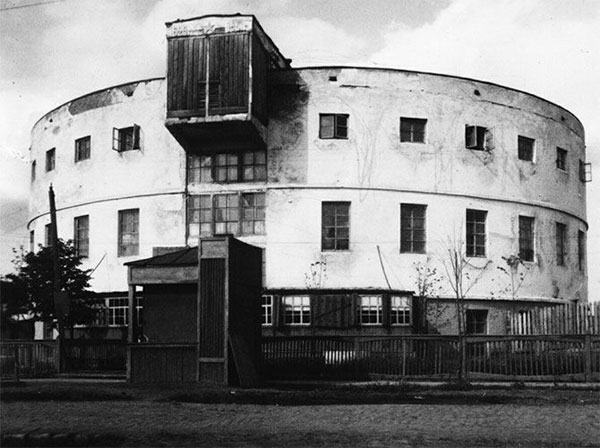 1950 photograph of Lenin public bath in Tyumen, designed by Anatoly Ladinsky. (Image: Max Schulz)
Visitors enter the pavilion and are greeted by a receptionist who welcomes them and provides a badge and program. Once inside, visitors encounter a scene consistent with commercial fairs around the world - carefully defined booths of different sizes and levels of energy and ostentatiousness, all united through a single system of pre-fabricated wall panels and standardized signage.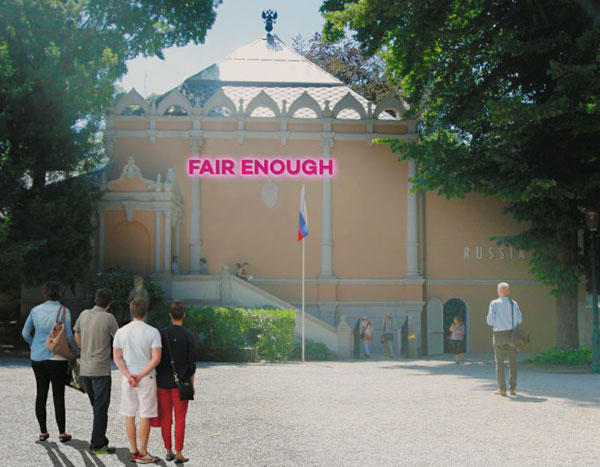 The scene itself is a response to national pavilions' curatorial theme: the exhibition addresses the issue of "absorbing modernity" by adopting the language of what is perhaps the ultimate manifestation of modernity - the international trade fair, a truly universal typology in which multimillion dollar medical equipment and artworks, imitation mobile phones, chemicals, canned foods, and curtain wall are all exchanged. As they relate to architecture, the international exhibition and commercial expo share much in common; in Russia they have essentially merged, with visions for urbanizing the country's interior presented in a context of carpet samples and molding catalogs. In Russia's pavilion, we present exhibition as expo: each booth showcases a different example of our modern architecture, illustrated through a combination of historical and new materials, and described to visitors by a representative who preaches the virtues of the concept, provides its history, and connects it to contemporary needs. The trade show runs throughout the first week of the biennale then gradually shuts down, leaving an abandoned post-fair environment filled with flyers, pamphlets and catalogues that visitors can explore at their leisure, accompanied by the exhibition's audioguide app.
Fair Enough is an expo of ideas. Each exhibit marks a milestone in modernization and clears a path for new efforts. Together, they form a marketplace of urban invention - made in Russia, open to the world.
STRELKA INSTITUTE FOR MEDIA, ARCHITECTURE AND DESIGN
Strelka is an international educational institution, founded in 2009, in Moscow. It hosts a free 9-month
postgraduate research programme on future urbanism and city development. Students develop strategic
understandings of the contemporary city and its future. Every year, Strelka hosts a summer-long public programme that includes lectures, work-shops, seminars, public discussions, concerts, and film screenings. These free and open events take place in Strelka's courtyard auditorium.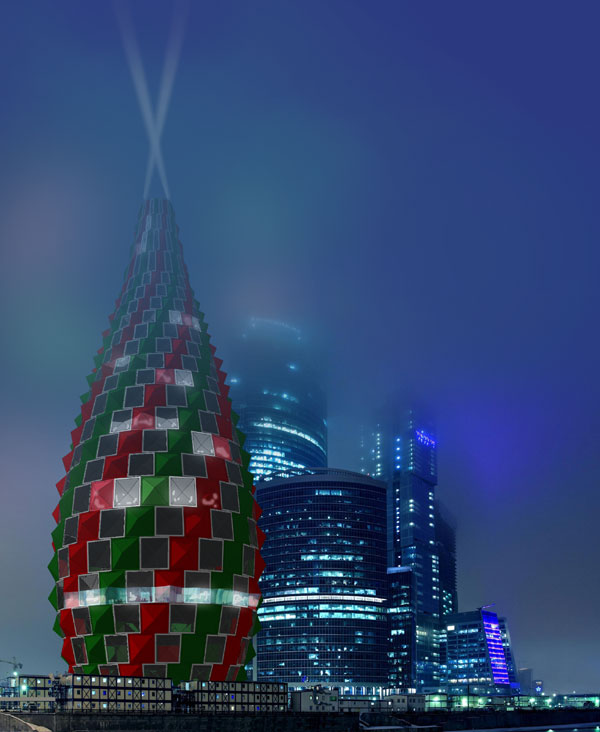 Proposal for a "Neo-Russian" skyscraper that provides an alternative to the generic high rises that currently
define financial districts in Russia and around the world. (Image: Victor Ruben / Strelka Institute)
The institute's publishing arm is Strelka Press, a digital-first publisher of essays as ebooks. Focused on
contemporary issues in architecture, design, and the city, Strelka Press uses Moscow as a crossroads for a global critical discourse, and aims to a be a disruptive force in design publishing. Strelka has been instrumental in putting public space on the agenda in Moscow. This influence is partly a result of its aforementioned public programme, but Strelka has also established a consultancy that organises public design competitions, including the renewals of Gorky Park and Zaryadye Park. Strelka also curates the annual Moscow Urban Forum, a crucial conduit for bringing global urban issues to the attention of Russian politicians.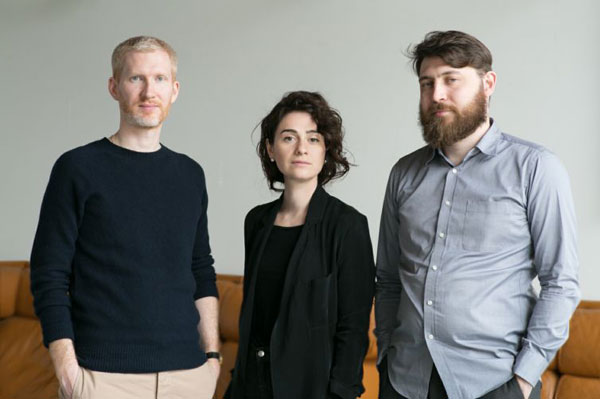 CURATORIAL TEAM: Brendan McGetrick, Daria Paramonova, Anton Kalgaev
CURATORIAL TEAM
Anton Kalgaev
(Born in Leningrad, 1984 / Lives and works in Moscow, Russia)
Cultural studies scholar, curator of exhibitions and research projects. He graduated from St. Petersburg State University, in the Faculty of Philosophy, where for three years after graduating, he gave lessons on the history of culture. In 2011/2012 academic year he studied at the Strelka Institute, where he worked on the theme of "RUSSIAN ARRIÈREGARDE", devoted to the role of folk art in the development of the province. Anton was a curator of series of exhibitions and research projects, including "New formalism" (St. Petersburg, 2010) and "Disorientation" (Samara, 2010), devoted to the study and development of the urban environment.

Brendan McGetrick
(Born in Providence, RI, USA, 1978 / Lives and works in Moscow, Russia)
Writer, editor, and designer. Brendan's work has appeared in publications in over twenty countries, including Wired, Art Review, Domus, and Vogue Nippon. His recent projects include the books MAD Dinner (Actar), Urban China: Work In Progress (Timezone 8), and Who is Architecture? (Domus/ Timezone 8). In 2011 he curated Unnamed Design, a component of the 2011 Gwangju Design Biennale, in collaboration with Ai Weiwei. The exhibition received over 200,000 visitors and was selected as the year's best contemporary design show by the New York Times. Since 2012, he has served as director of Strelka Knowledge at the Strelka Institute in Moscow.

Daria Paramonova
(Born in Moscow, 1980 / Lives and works in Moscow, Russia)
Architect, teacher. In 2006, Daria graduated from Moscow Institute of Architecture. Immediately after graduation, she began working in Alexander Brodsky's architectural bureau, where, since 2009, she also is a commercial director. While Daria was working in the bureau, she also gave lessons at the Department  of Public Works with the professors A.A Velikanov and V.A. Shulrichter. In 2010/2011 Daria was  studying at the Strelka Institute, where completed the project in the Rem Koolhaas's studio. The theme  was "Conservation of modern architecture of the last twenty years in Moscow". Paramonova has written  an essay "Funghi, mutants and others: architecture in the Luzhkov era", based on her research project.  On graduation from her training Daria continued to work at the Strelka Institute as a teacher and curator  of special projects.