NEWS
EVENTS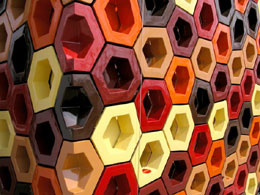 01 October, 2012
Ceramica Cumella . Shaping Ideas
Exhibition about ceramics applications on contemporary architecture.


The artistic and scientific innovations emerging from the studio of Toni Cumella reveal that ceramics are highly versatile 21st century materials. Focusing on the 4 main fabrication processes in use at Ceramica Cumella - extruding, casting, pressing and revolving - Shaping Ideas presents the work of Toni Cumella and the application of his ceramics in some of contemporary architecture's most significant projects.

Born in 1951, the son of ceramicist Antoni Cumella, Toni Cumella studied industrial engineering at Barcelona University before dedicating himself entirely to ceramics in 1970. After the death of his father in 1985 Cumella redirected the focus of the studio Ceramica Cumella specifically towards the development of architectural projects and large-scale artworks. Between 1989 and 1992 the studio undertook its first two major architectural commissions: the restoration of Gaudi's Casa Batlló (with architect Josep Botey) and the restoration of Gaudi's Parc Güell (with architects Elíes Torres & Martinez Lapena), which firmly established Ceramica Cumella as a centre of expertise in the field.

Subsequent collaborations developed at the studio include Enric Miralles and Benedetta Tagliabue's Park Diagonal Mar and Parc Dels Colors followed by the Santa Caterina Market in 2005, Jean Nouvel's Placa Sardana, Alejandro Zaera-Polo's  Spanish Pavilion at Expo 2005, the Law Courts in Terrassa and the Catalan Police Headquarters in El Vendrell with Josep Botey, and Enric Ruiz-Geli's Villa Nurbs in 2009. Currently underway at the studio are new projects with Renzo Piano, Kengo Kuma and Amanda Levete.
Place: Architectural Association school of Architecture, London
Duration: 29th of September 2012 to the 27th of October 2012.
Information HERE