NEWS
GENERAL
06 November, 2011
New column in greekarchitects by Aikaterini Gkoltsiou
LANDSCAPES. Τhis column focuses on various topics relating to landscapes as shaped by the interaction between natural processes and human interventions, and discusses current approaches to landscape analysis and landscape design.
Landscapes are analyzed at all scales, from the micro-landscape to the macro landscape. Various aspects of landscape design, protection and management are explored with special emphasis on current trends in the design of public open spaces. Methods and tools of landscape assessment are investigated. The relationship between the landscape and various economic activities such as tourism and agriculture is of particular interest, especially with regard to the ways landscapes change as a result of these activities, and the ways in which landscapes contribute to these activities' development and potential redefinition.
This column also explores issues relating to the legal recognition of landscape as an integral component of the human environment, as an expression of the citizens' shared cultural and natural heritage, and as the foundation of their identity, stressing the importance of developing institutional tools for landscape protection, management and design.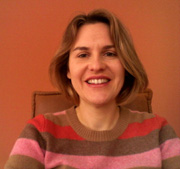 Aikaterini Gkoltsiou has a Ph.D. in Geography from the University of Aegean in Greece, a Master in Landscape Architecture from the University of Edinburgh, U.K., and a diploma in Agriculture from the Agricultural University of Athens, Greece. Nowadays, she is working as a freelance landscape architect and she is having a practice established in Athens since 1997. She specializes in a wide range of services in the design, construction and research sector of landscape architecture. Her landscape expertise involves the landscape design of public and private projects, landscape assessment, and landscape restoration projects.
She was also the co-author in books for secondary and higher education, she published in scientific journals and conference proceedings, and she was giving lectures about landscape design and research. She participated in funded research programmes concerning landscape assessment, land use changes, landscape indicators, GIS and remote sensing. She is a member of the following professional societies: Panhellenic Association of Landscape Architects, International Federation of Landscape Architects, Geotechnical Chamber in Greece and she was a member of the board of the Panhellenic Association of Landscape Architects during 2004-2006.