COLUMNS
LANDSCAPES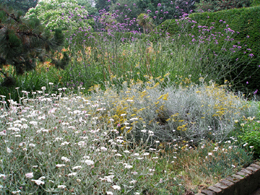 10 March, 2012
Mediterranean gardens
The Mediterranean gardens are part of the wider Mediterranean landscape, following the lines, colors and textures and symbolizing the imprint of man upon the landscape during the course of history.
By Aikaterini Gkoltsiou

The history of Mediterranean gardens shows the close relationship between man and nature, the cultural particularities of the Mediterranean people and the harmonious relationship between garden and landscape.
The basic elements of a Mediterranean garden are:
A)  The atrium which is functioning as a safe space for family gathering.
B) The need for shade is also essential in Mediterranean climates. So, in the courtyards of villages, we find pergolas offering their shade, and plane trees in the middle of the squares.
C) The decorative paving made by stone or pebbles or colored tiles is also an important element of the Mediterranean garden.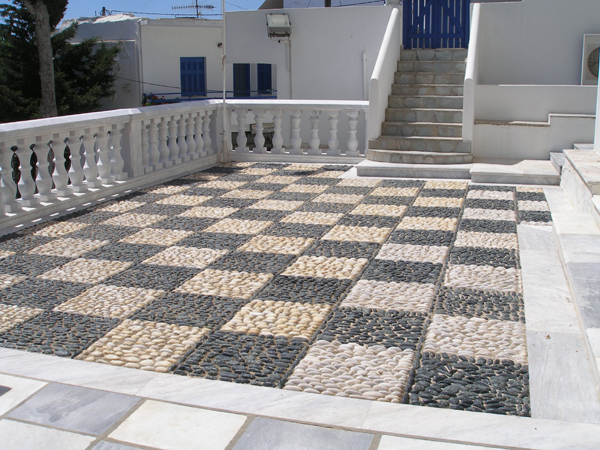 Decorative paving made by pebbles in Tinos. August 2011. Photographs by Aikaterini Gkoltsiou.
D) The terraces of arable land for olives and vines characterize the Mediterranean landscape. The formation of a garden into several levels help the water management and the growth of various species according to their needs (kitchen-garden vegetable garden, vineyard, olive trees, fruit trees).
E) The presence of the water structures in the form of a well or a marble fountain, or linear channels is mainly used for watering the crops.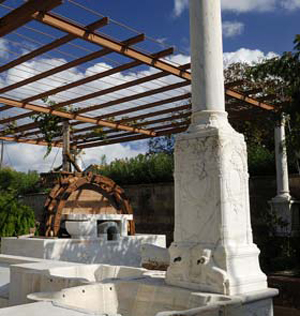 Tank in Argediko House in Chios.  Photographs by Aikaterini Gkoltsiou.
F) The planters and pots have an utilitarian role in gardening as well as an aesthetic one.
G) The decorative stone vases or statues give rhythm, a sense of order, and a meaning to space.
H) The native plants are characterized by their resilience to drought, their limited color palette, dominated by the silver green of olive, the strong aroma of herbs, and the rounded tumors of shrubs.  The presence of fruit trees (lemon, orange, cherry, almond), of the cypress and of the vegetable gardens is necessary.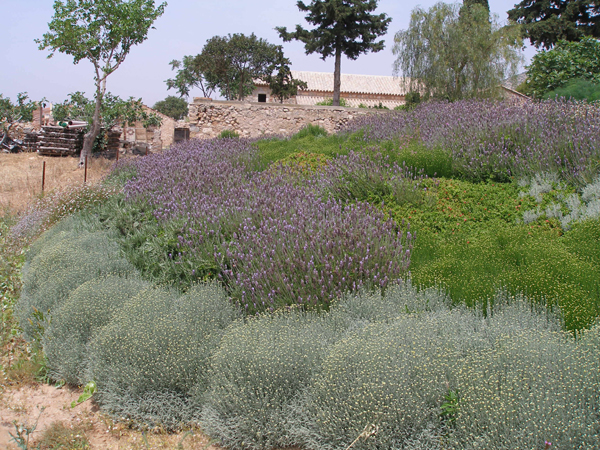 Rounded tumors of aromatic shrubs. Private garden in Lagonissi, Attica. Photographs by Aikaterini Gkoltsiou
For the people of Northern Europe the characteristic elements of a Mediterranean garden are the sun, the olives, the cypress, the lemon and orange trees in pots. On the contrary, for the people of southern Europe, the key elements of a Mediterranean garden are the water, the fountain and the shade of a pergola.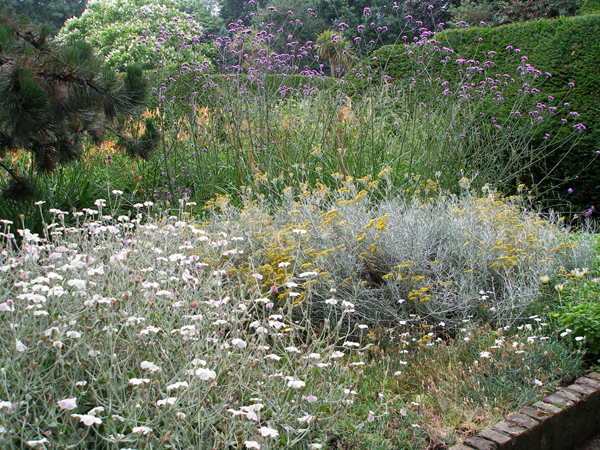 Mediterranean plants in English public gardens. London, July 2008. Photographs by Aikaterini Gkoltsiou
In conclusion, the successful interpretation of the concept of the Mediterranean garden is towards the respect of the genius loci of a space and the perception that the Mediterranean gardens are small "pieces" of the Mediterranean landscapes.
by Aikaterini Gkoltsiou