STUDENTS PROJECTS
PROJECTS2013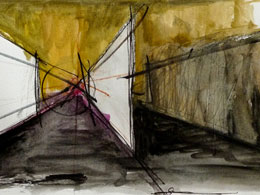 06 June, 2014
School of Plastic Arts at the Passages of Ioannina
Educational functions in the historic centre and former othomanic bazaar of the city of Ioannina.
Student Group: Koumpouli Alexandra, Mantzoufas Serafeim
Supervisors: Kizis Ioannis, Belavilas Nikolaos
Consultant: Vassilatos Panagiotis
National Technical University of Athens/ School of Architecture
Date of Presentation: March 2013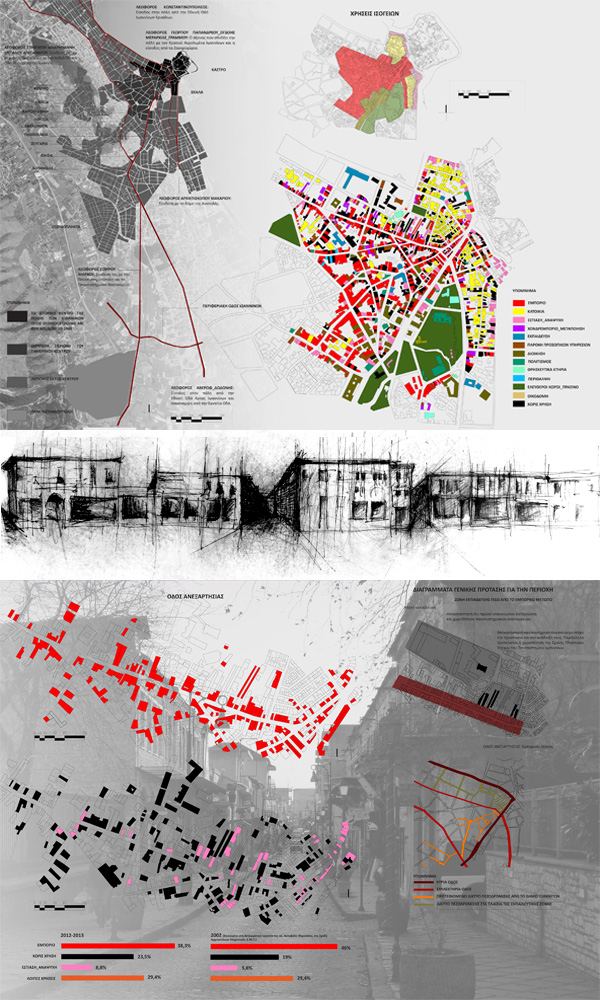 The subject of this diploma project is the siting of the School of Plastic Arts of the University of Ioannina at the area of the former othomanic bazaar of the city. The galleries, named after their former owners (Louli, Alieos-Levi, Baratsa, Liabei), are former commercial places or workshops, built along the sides of long but narrow plots and usually combined with an inn (also known as hani). From the end of the 19th until the middle of the 20th century they were important commercial places for the city of Ioannina. Today they are derelict and they resemble of abandoned passages, an image which is further amplified by the constant decreasing in commercial activity at the area. In our proposal we attempt to upgrade the historical centre of the city by introducing educational functions together with the old commercial ones whilst protecting the monuments and preserving the cultural heritage.
In order to meet the requirements of the new use we propose the expropriation of most of the block's buildings. After a detailed listing and evaluation of the buildings, a number of demolitions are proposed, while the galleries and the unoccupied shops are preserved, receiving new uses that are compatible with the new educational use to be established. The front of Aneksartisias Street is preserved, so that the commercial activity and the image of the street are not disturbed.
The shops of Aneksartisias Street, together with the old galleries, resemble a "comb", running through the area. The trails of this comb become the guidelines for the design of the new building. The unplastered cement walls of the university converse with the old stone walls of the galleries. The galleries are restored with the use of modern materials and house new functions, compatible with the new use.
The main entrance of the new complex is sited at the place were the Inn of Alieos-Levi Gallery used to be. There the two main axes of movement of the new building meet, one with a north-south orientation and one heading from east to west. The new facilities occupy 7648 sq. m. and include workshops, auditoriums, administration offices, auxiliary and storage rooms and cafeterias, all arranged in 3 levels. Louli gallery is converted to a library, Alieos-Levi Gallery houses exhibition spaces and in Baratsa Gallery municipal artistic workshops are sited. The new buildings, the galleries, and the traditional shops are arranged around a central plaza, the middle of which is dominated by the plane tree, basic characteristic of the traditional inn's yard, an assembly point and a place for socialization.