STUDENTS PROJECTS
PROJECTS2013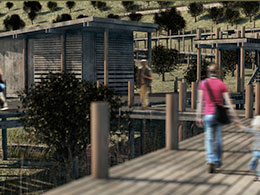 10 June, 2015
EcoSYSTEM and InfraSTRUCTURE
Landscape restoration strategies for the fire-afflicted area of Helia, Peloponnese.
Students : Grigoriou Dimitra, Bacharidou Maroula, Fakiri Ioanna
Supervisors: Papalexopoulos D., Vozani A. Advisor: Micha E
Scientific Advisors: Touliatos P., Manios E. , Poirazidis K.
Presentation date: February 2014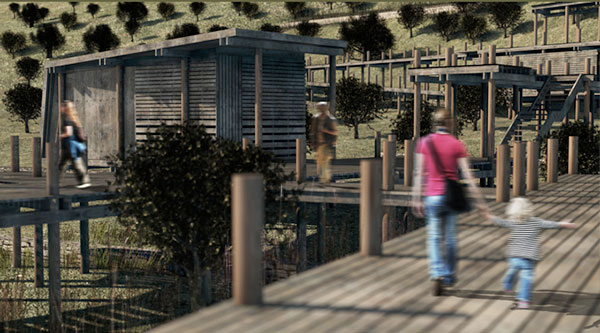 The  diploma project proposes the development of landscape restoration strategies and techniques  in Helia (Peloponnese, Greece), an area having suffered great losses during the 2007 wild firestorms. The project attempts to describe a technical methodology of re-claiming and mainly re-inhabitating the landscape in a sustainable way.
Helia constitutes a widely diverse mediterranean ecosystem, it includes a variety of species, ecological processes and physical settings. In the area lies Kaiafas Lagoon and one the largest greek wetlands, part of the National Park of Kotichi and Strofylia and the Natura 2000 Network.The natural landscape is composed by (from waterfront to inland) Aleppo pine forests, lagoon and wetland with riparian vegetation, cultivated fields, mainly olive groves and rural areas with a high proportion of natural vegetation.
The project aggregates the multiple land networks, natural processes and the socio-cultural values of the landscape in order to create a methodology for restoration and reorganisation of the territory. The region on which we focus our research confronts a series of environmental threats, including landscape change, soil erosion and natural resources pollution, dangers which have been intensified after the continuous landscape degradation before 2007 as well as the fire disaster during the summer of this year. The project draws attention to these areas of the greek landscape, traditionally marginal and suggests a transformation through protection and a new kind of land anthropization.
Αfter analysing and mapping and the quantitative and qualitative systems (ecological | anthropic | geomorphological, geological processes | administrative constraints | land use plans |special characteristics of the area) the strategy proposes a simultaneous improvement in environmental, as well as socio-economic values through the integration of infrastructure (technical vocabulary) and implementation of uses for protection and regeneration of the area in regional and landscape scale.