ARCHITECTURAL PROJECTS
RESIDENTIAL
26 March, 2011
Private residence and guest house in the Laurentian mountains
In complete harmony with the natural landscape, the building reflects contemporary architecture and local building traditions.
By Maria Papadimitriou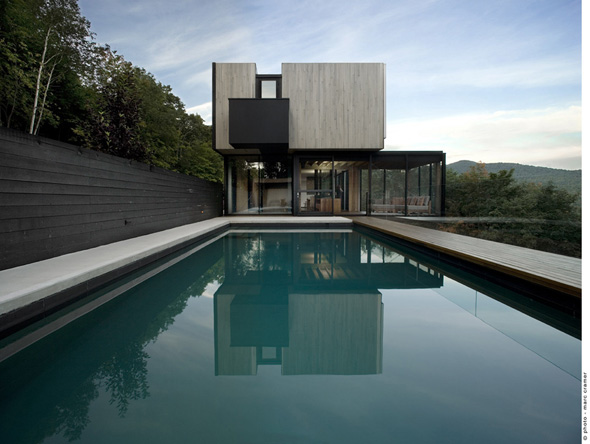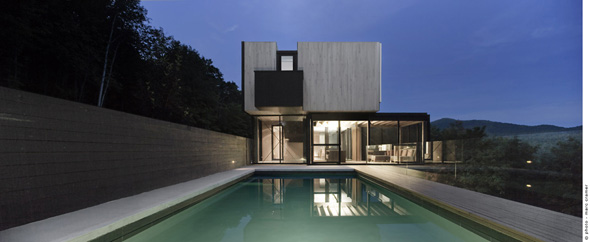 The building is located in a mountain landscape, in the Laurentian Mountain, a district of Montréal. In complete harmony with the natural landscape, the building reflects contemporary architecture and local building traditions. Simplicity, clarity, openness and harmony with the surroundings are the main aspects of the building's design.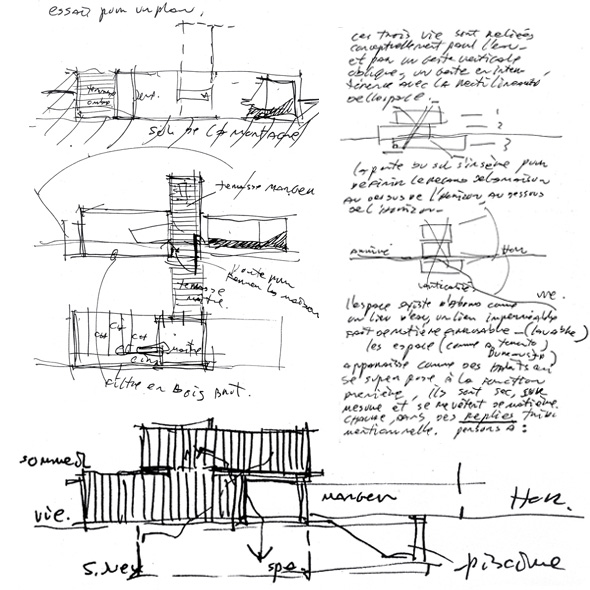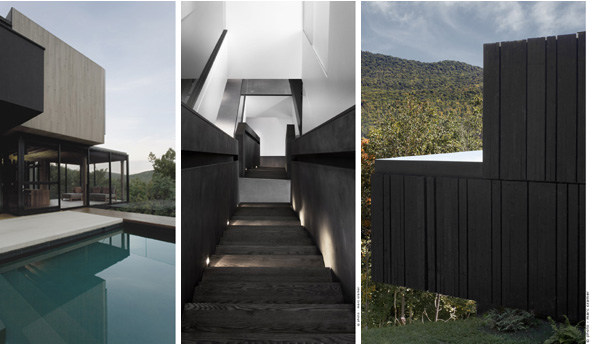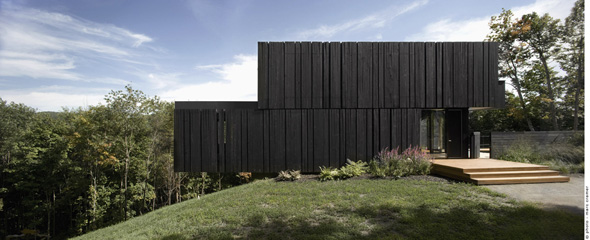 The building includes a residence and a guest house. The residence is consisted of three main volumes that slide on one another along an east-west axis. The three volumes symbolize the three lives of its occupants (eating, sleeping and living). Pierced obliquely by an interior stair, the superimposed volumes are aligned with the entrance-level pool. A translucent screened outdoor living-room, typical of the region, projects into the woods at the point where the main volumes overlap, and emphasizes the sliding geometry of the project.
The residence is placed within a fold in the landscape, creating an intimate exterior space. Inserting the building into the forest resists the temptation to vie for a more conventional open setting and allows for several practical advantages in terms of exposure to the public realm, the sun and wind.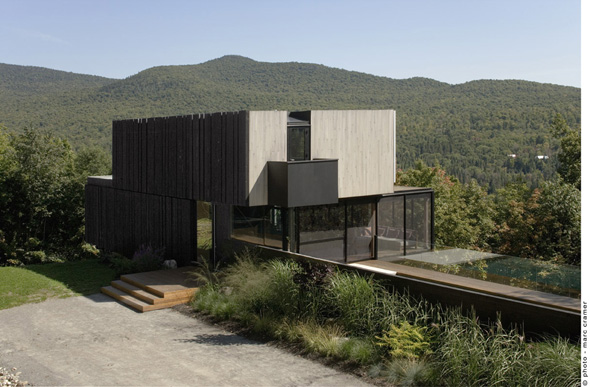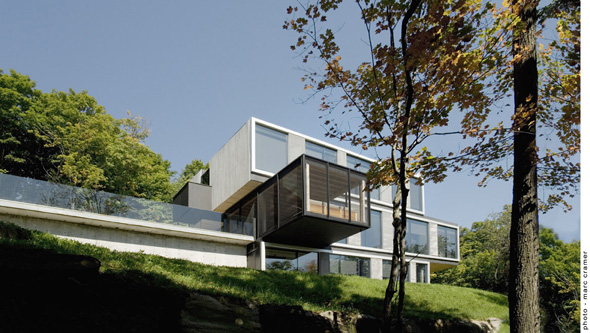 The guesthouse is situated along the same horizontal plane as the entrance volume of the main house. It is envisaged as a prism that slides westward, detaching from the main mass. Erosion, a natural process that occurs in mountainous regions, seems to have caused the volumes to glide laterally, each out of sync with the other, yet all together forming a practical and harmonious composition.

SAUCIER + PERROTTE ARCHITECTS absorb information from the local elements. Topography, rock formations, trees, and ground cover have influenced their design. The building surfaces respond to the specificity of the wooded site, where the verticality of the trees and tones of grey, brown, and green predominate. The north facade reflects this dense context through irregularly-spaced, rough-cut wood strips. While providing a unique facade pattern, the positioning of these strips permits several partially-hidden slit window openings.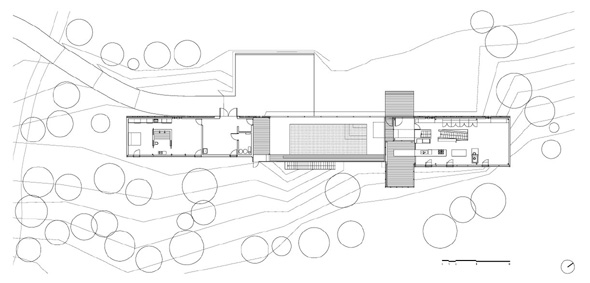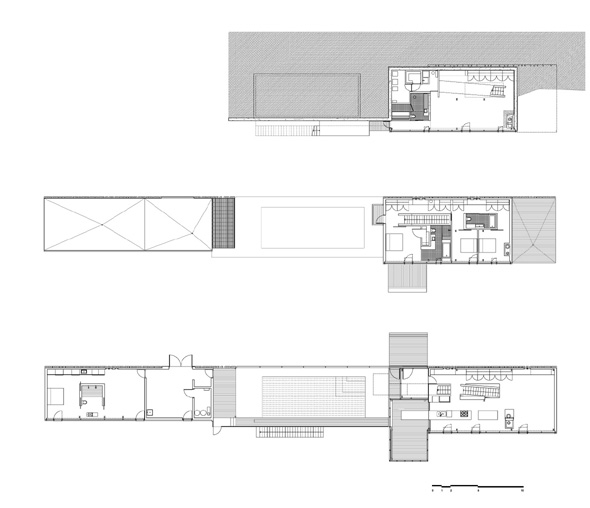 The south facade, which screens the sun to varying degrees, is completely open to forest. The lateral wood-slats on this face of the building form a continuous band of wall, soffit and roof deck. The materials' clarity, their texture and color, the maintenance of their roughness absorb the residence in the natural landscape and makes it an unexpected element of nature, despite its overall precise geometric form.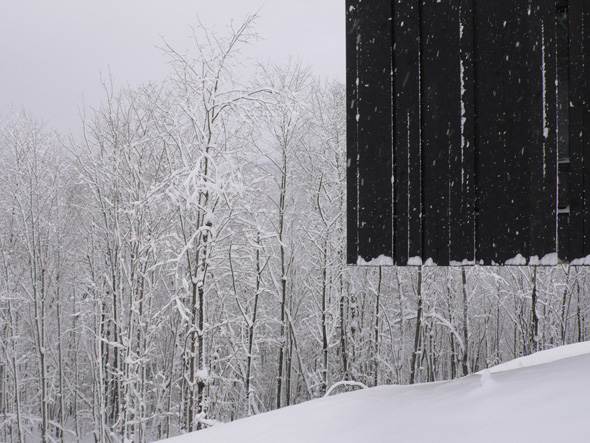 In the interior, luminous sub-volumes, translucent or opaque white, maintain the volumetric clarity of the project. The interior spaces find themselves somewhere between flowing and compartmentalized, offering the occupants multipurpose or interpretive spaces. "The lateral movement of building elements is activated by the literal movement of people in space: whether approaching by car, descending the oblique stair, swinging the large sliding doors, or swimming lengths across the pool." the architects conclude.
Program:single-family residence and guest house
Area main: house: 350sm, guest house: 125sm
Construction completion: 2008
Design: 2004
Awards: Canadian Architect Award of Excellence_2004
Architects: SAUCIER + PERROTTE ARCHITECTS
Team members: Gilles Saucier (lead design architect), André Perrotte, Anna Bendix, Guillaume Sasseville, Éric Majer, Laurence Lebeux, Trevor Davies, Vedanta Balbahadur
Information: SAUCIER + PERROTTE ARCHITECTS
Photos: Marc Cramer
Photos with snowy landscape: Gilles Saucier

Editing: Maria Papadimitriou, architect engineer