COLUMNS
360º Architecture
29 October, 2010
Transformed by Couture
Through an initiative of Elle magazine, fashion designers have now found a new way to market their lifestyle brands and promote themselves as creators of luxury products as well as inspired artworks that cannot be imitated.
By Styliane Philippou
Marie Antoinette's unconventional fashion statements, capricious and theatrical sartorial choices, extravagant and frequently ridiculed pouf hairdos, and trend-setting costumes have become iconic of the absurdity and decadence of Louis XVI's court against a nation in bankruptcy and a starving populace. The glamorous looks and conspicuous consumption of Madame Déficit, as the doomed French queen became known, have also been recently interpreted as powerful political instruments.(1) The principal innovation of the Austrian princess married to the House of Bourbon, however, was that she allowed commoners - Rose Bertin, her dressmaker, Monsieur Léonard, her hairdresser, and Jean-Louis Fargeon, the royal perfumer - to dress, coif and scent her. The same eighteenth-century Parisian marchandes de modes who answered to the whims of the royal consort catered to the aristocracy and, increasingly, to the bourgeoisie who triumphed at the Revolution. Marie Antoinette also succeeded in turning herself into a fashion icon and widely followed celebrity. It is said that the ephemeral outfits that emanated from Versailles were so closely imitated that after the queen's last public performance at the guillotine, rather cynically, women of the Parisian nobility began to tie red ribbons around their necks,(2) obviously more conscious of the fate that threatened them than Marie Antoinette ever was. In the first year of the Revolution she dressed lavishly and spent frivolously, and in 1792, while under guard at the Tuileries, she chose imperial purple to assert a position only she thought possible to salvage,(3) just like desperate bankers give up dress-down Fridays at times of financial crisis.
Eighteenth-century Parisian women of all classes donned the whimsical dresses of Mademoiselle Bertin's Austrian model, but it is an Englishman, Charles Frederick Worth, who is credited with the creation of the French fashion industry. By mid-nineteenth century, Worth was producing large collections of garments for his wealthy clients to choose from. While dressmakers copied traditional models, his couture gowns guaranteed a unique look. For Worth, to be à la mode did not mean to look exactly like every other fashionable woman. Noted scholar on French history and society Theodore Zeldin tells us that Paul Poiret - the early-twentieth century designer who caused a stir with his revolutionary design process, radically reductive dressmaking techniques, modernist simplicity and economy of means - 'was exasperated by the way American women tried to create "fashions" out of what he insisted were only "suggestions"...He complained that American women had the mentality of schoolgirls, which they kept all their lives; their "fashion sense" made them look like a mass orphanage in uniform'.(4) Celebrated for his innovative clothing of la garçonne's emancipated body, Poiret radically changed not only the course of garment construction but also the business of fashion. Despite his misgivings about American women's approach to his creations, he entitled his 1931 memoir The King of Fashion - an appellation he earned in the US - but also declared that dressmaking is an art on an equal footing with painting. His couture house had the commercial galerie Barbazanges attached to it, and he promoted his garments as unique works of art. As a true artiste, he expected his patrons to admire, desire, collect and proudly display his artworks, but surely not imitate his style. A talented couturier with entrepreneurial acumen and an understanding of the power of publicity, Poiret was the first to exploit his name and diversify into other products and international markets. He sold shoes made by others - including mismatched 'twins' more than a quarter-century before Camper - hats, bags, perfume and house decoration, establishing a powerful lifestyle brand and a precedent that has been followed ever since.
Poiret was also a pioneer in the way he publicized his clothes, first through designing for the theatre stage and for famous actresses and dancers off stage, and later through highly theatrical fashion shows disguised as private costume garden parties, for which he dressed his guests in his exotic creations, beginning with an Orientalist The Thousand and Second Night in 1911. Celebrity brands and spectacular catwalk-events-cum-performance-pieces staged in ever more unusual sites, from London's Victoria and Albert Museum to Oscar Niemeyer's Communist Party Headquarters in Paris, are commonplace today. Following Poiret's lead, many famous couturiers collaborated with artists in the design and packaging of their products, but it is only recently that artists started to diversify into other products and markets. Salvador Dali launched a perfume (made by HEC) and Picasso - or rather his heirs - lent his name to cars (Citroën). Architects have always designed furniture but the range of products they now turn their hand on is expanding rapidly as their names add glamour to the 'orphanage uniform'. Frank Gehry and Oscar Niemeyer designed jewellery (for Tiffany and Stern respectively), Zaha Hadid shoes and handbags (for Melissa and Louis Vuitton), and Jean Nouvel a perfume bottle (for Yves Saint Laurent's L'Homme), which he appears to take no less seriously than his buildings: 'the [phallic] bottle symbolizes a fully assumed virility, while the fine glass creates a contrast implying a kind of fragility and softness,' glosses Nouvel.
Through an initiative of Elle magazine, fashion designers have now found a new way to market their lifestyle brands and promote themselves as creators of luxury products as well as inspired artworks that cannot be imitated. ELLE Décoration Suite at the Cité de l'Architecture et du Patrimoine, the architecture museum located in the Palais de Chaillot, in Paris, gives fashion designers carte blanche to transform the former apartment of Jacques Carlu, the architect who designed the Palais de Chaillot in the 1930s. For the first edition of ELLE Décoration Suite (Dec. 2007 - Oct. 2008), Christian Lacroix merely re-decorated the 250-square-metre top-floor apartment. The scheme featured strong colours and patterns, and artworks from the couturier's personal collection went on periodic display. For the second and third edition, on the other hand, Martin Margiela (Dec. 2008 - Feb. 2010), the designer who uses a rectangular white-cotton stitch instead of a brand label, and Jean Paul Gaultier (May 2010 - Oct. 2011) chose to create site-specific installations.
Known for his 'deconstructed' conceptual garments, Margiela used trompe-l'æil wallpaper and floor finishes to dress Carlu's Trocadero apartment in Haussmanian costume, and stage a feast that intrigued visitors with its ghostly traces. Upon closer inspection, however, it became evident that the feast was never consummated; the guests did not turn up. The large reception room had been prepared but no champagne was poured; the table was set, the candles were lit, but the soup was never served. Margiela's signature white theme shrouded the apartment in mystery.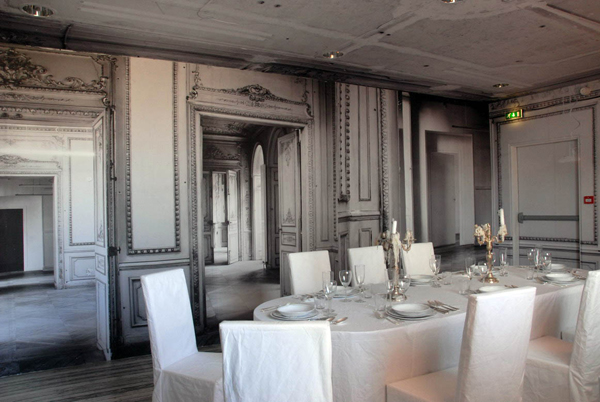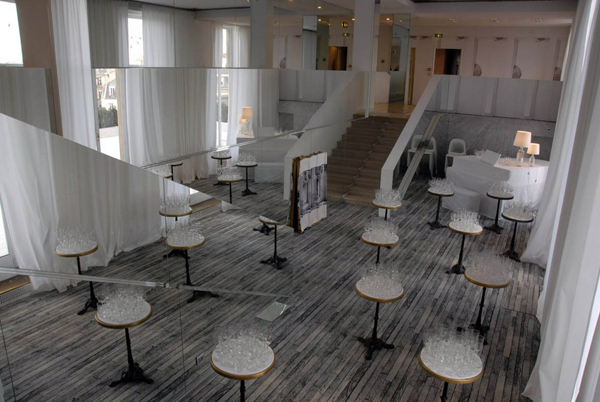 Martin Margiela, ELLE Décoration Suite (Dec. 2008 - Feb. 2010), Cité de l'Architecture et du Patrimoine, Palais de Chaillot, Paris. Photographs by Styliane Philippou
The current installation at the top floor of the Palais de Chaillot by the Eiffel Tower, bears an easily recognisable signature: Jean Paul Gaultier's vocabulary of sailor stripes, padding, and corset dresses with Madonna-style cone bra need no label attached. Draping, printing and folding, the celebrated couturier used the dressmaker's working methods to transform the interior of the apartment, wrapping hard-edged furnishings in fluid blue stripes, stretching a two-dimensional, soft, elastic, opaque textile skin over hard, rigid fixtures and fittings, and thus distorting their volume and silhouette, without however challenging their substance. Beyond a dizzying striped entrance corridor and a small salon, the apartment's large central space is lined with mirrors and filled with plants that give it a rather unimaginative garden-like appearance, complete with wrought-iron furniture. Even more conventional, the third room is decorated like a Parisian girly bedroom in skin-beige satin and black dentelle, dominated by a large bed entirely covered by the skirt-cum-giant-quilt of Gaultier's signature doll.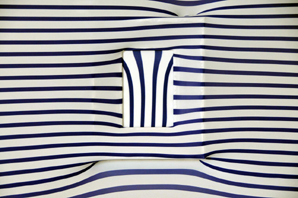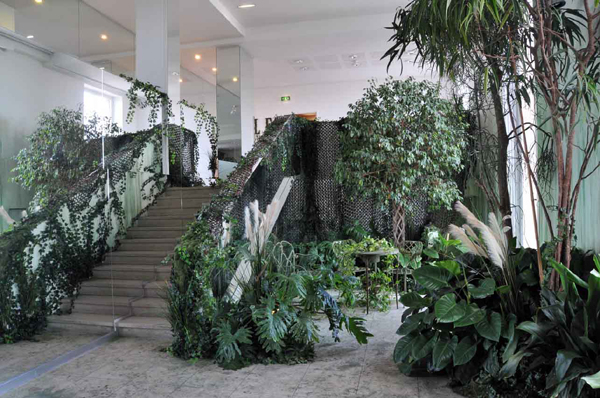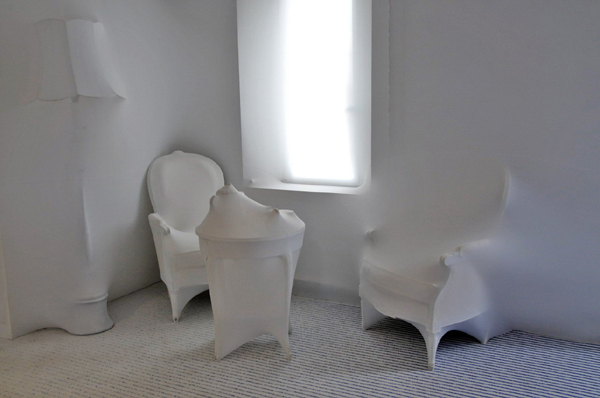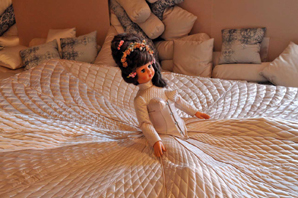 Jean Paul Gaultier, ELLE Décoration Suite (May 2010 - Oct. 2011), Cité de l'Architecture et du Patrimoine, Palais de Chaillot, Paris. Photographs by Styliane Philippou
This is not the first time Gaultier shows unconventional gowns. For the 2004 exhibition Pain Couture by Jean Paul Gaultier at the Fondation Cartier in Paris (6 June - 10 October), he dressed Jean Nouvel's glass-and-steel gallery using the most ephemeral of materials: bread and pastries. His spatial intervention was limited to the use of longue baguettes as brises-soleil to protect the appetizing collection of bread dresses and accessories, from umbrellas, wigs and hats to spectacles, flip flops and pumps. Wicker structures alluding to a baker's baskets were used to interpret corsets' whalebone stays and panniers that hold up skirts. Glamorous gowns and cocktail dresses were assembled out of long slender baguettes, large thick slices of hefty wholemeal bread, crispy langues de chat, square slices of brioche, crusty round loaves and golden-brown boules of country bread, oval slices of doughy bâtards - short baguettes - butter croissants and chocolate-filled rolls, mould-cast or hand-shaped by passionate professional bakers in the basement of the building, and refreshed throughout the exhibition. But every single slice of delicious boulangerie was used to fill conventionally configured bustiers, and shape familiar trains, flounces and frills. Even though entertaining, the ephemeral products of the fashion designer's baking exercise confirmed him as an accomplished couturier rather than an artist: 'Clothes are my job, and¼I only know how to dress,' asserted Gaultier himself at an interview following his recent exercise in interior decoration.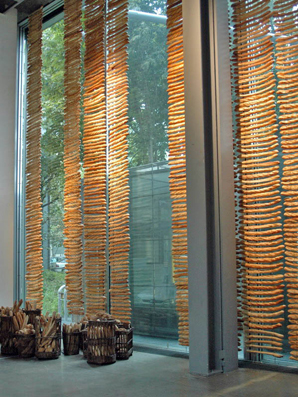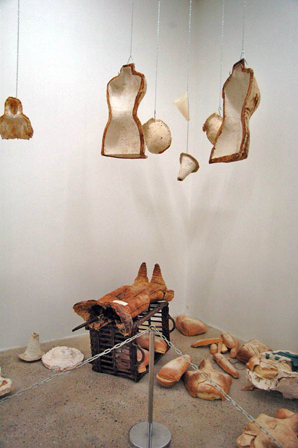 Jean Paul Gaultier, Pain Couture by Jean Paul Gaultier (6 June - 10 October), Fondation Cartier, Paris,
Photographs by Styliane Philippou
There seems to be a trend among many of today's artists and designers to perform in fields other than the ones in which they have excelled and gained recognition. In 2008, for example, French stage and screen actress Juliette Binoche danced together with dancer and choreographer Akram Khan in In-I, a piece they created together. The forty-four-year-old actress who had never trained as a dancer before also planned an exhibition of her paintings to coincide with her dance debut. The famous actress's name did indeed guarantee sold-out performances. This year, acclaimed Belgian choreographer and dancer Anne Teresa De Keersmaeker collaborated with French choreographer Jérôme Bel in 3Abschied, an interpretation of Gustav Mahler's Der Abschied. Even though she tells the audience at every performance that the singing teacher she hired for the purpose warned her about the impossibility of the task and the foolishness of the ambition, De Keersmaeker sings before a full theatre, perhaps in order to prove her courage, perhaps in order to underline her and Bel's foretold failure to do justice to Mahler's legendary music. One is bound to wonder if Binoche's intention was to act the role of the dancer or to exploit the power of her name and diversify into new fields. One admires De Keersmaeker's courage but remains rather unconvinced about the honesty of the intention and the modesty of the performer.
While successful artists capitalise on their fame to launch a brand capable of seducing audiences beyond their habitual ones, fashion designers dress their established brand as art, and address audiences beyond their customers in order to enhance the image and enlarge the market of their brand. Posing as artists contemporary couturiers distance themselves from the shrewd businessmen and industrialists whose mass-produced, China-manufactured, licensed products boast an increasingly conspicuous label meant to demonstrate good taste and, even more importantly, expensive taste. They also assure the schoolgirl- and schoolboy-mentality consumers of their wares that the names behind the labels are no mere craftsmen; their interests and creative vision extend beyond hemlines and necklines. And if the price of a garment cannot exceed all limits, an artwork may well be priceless. As Roland Barthes asserts in his study of the discourse of fashion, 'Calculating, industrial society is obliged to form consumers who don't calculate¼to blunt the buyer's calculating consciousness' by drawing 'a veil¼around the object - a veil of images, of reasons, of meanings'.(5) Marie Antoinette delighted in playing the part of servant girls in the musical comedies she was fond of staging at her private theatre. But she kept perfumed sheep at her toy farm, Le Hameau.(6) The beautifully coifed sheep, the well-dressed servant girl and the carefully staged careless ambience of the Petit Trianon were all charming products of a ruling queen; but they did not blunt her starving subjects' consciousness.
Notes
1  Weber, Caroline, 2006, Queen of Fashion: What Marie Antoinette Wore to the Revolution (New York: Henry Holt and Co.)
2  Weber, citing Carrolly Erickson, pp. 8-9.
3  Mantel, Hilary, 2007, 'The Perils of Antoinette', The New York Review of Books, 11 January. This article is a review of Caroline
    Weber's book.
4  Zeldin, Theodore, 1982, The French (New York, Tokyo and London: Kodansha), p. 311.
5  Barthes, Roland, 1983, The Fashion System (Berkeley, Los Angeles and London: University of California Press
   [1967 in French]), p. xi.
6  Mantel.