NEWS
BOOKS REVIEW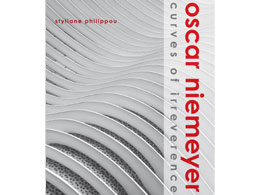 28 March, 2011
Oscar Niemeyer: Curves of Irreverence
Gold medal winner of the 2009 Independent Publisher Book Award in the category of Architecture.
Summary
Born in Rio de Janeiro in 1907, Oscar Niemeyer is one of the world's most fiercely original architects and the central figure of Brazilian architectural Modernism. The prolific designer of more than 600 buildings, Niemeyer has been in practice for more than seven decades. Architecture, he declares, must be 'functional, beautiful and shocking'. Transgressing orthodox Modernist aesthetic doctrine and subverting hegemonic cultural models, his work privileges invention and affirms spectacle and luxury, pleasure, beauty and sensuality as legitimate architectural pursuits. Establishing a reflexive relationship with European and later North American Modernism, his aesthetic of excess, habitually interpreted as a reflection of Brazil's tropical Otherness, has also emerged as a proleptic, radical critique of canonical Modernist aesthetic formulae and moralizing ideologies.

Despite early international recognition of his achievements, Brazil's most lauded, defiant architect has been marginalized by mainstream historiography. Providing the first comprehensive, in-depth analysis and critical re-evaluation of Niemeyer's fertile career and dissident perspective, Oscar Niemeyer: Curves of Irreverence sheds new light on the route the architect has followed as well as on Brazilian Modernism as a non-conformist project informed by a nationalist and anti-colonialist stance.

Lavishly illustrated with original sketches, drawings and models, and historical and specially taken photographs, this monograph explores the development of Niemeyer's extraordinary body of ideas and forms as well as his key role in the construction of Brazil's modern image and cultural tradition. The complete range of Niemeyer's work, built and unbuilt, is closely studied: from his contribution to the first state-sponsored Modernist skyscraper in the world, the Ministry of Education and Public Health in Rio de Janeiro, through his architectural manifesto on the lakeshores of Pampulha, the polymetric architecture of his Casa das Canoas and his mid-twentieth-century reinterpretation of tradition and monumentality in the government buildings for Brasília, to his recent spectacular civic landmarks at Niterói and Curitiba. Detailed documentation and examination of Niemeyer's major buildings, from first sketches to final achievement, grants rare insights into his design process and the architectural principles and ideological aspirations that have guided his intoxicating experiments in reinforced concrete.


Styliane Philippou, 2008, Oscar Niemeyer: Curves of Irreverence (New Haven and London: Yale University Press)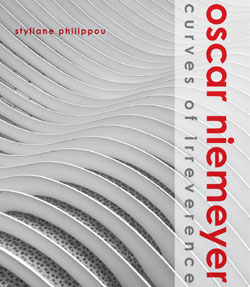 Also:
Oscar Niemeyer, sensuous centurion
The career of Brazilian architect Oscar Niemeyer, often underrated, is celebrated in this marvellous account, writes Richard Weston. Read the article>>
by Richard Weston - architecture professor at Cardiff University.

A Vision in Concrete
Editor's Choice: Oscar Niemeyer's work continues to enchant and appall students of architecture and urban planning. Read the article>>
by Benjamin Schwarz


YALE UNIVERSITY PRESS

Oscar Niemeyer: Curves of Irreverence by Styliane Philippou.
Gold medal winner of the 2009 Independent Publisher Book Award in the category of Architecture.
Read the article>>
First publication 08/09/2009