STUDENTS PROJECTS
PROJECTS2013
04 April, 2015
Public Library at Kalamaria
The subject of this Diploma Project concerns the creation of a Public Library.
Student: Ntouvli Aspasia
Supervisor: Sarantis  Zafeiropoulos
Aristotle University of Thessaloniki - Faculty of Engineering
Presentation date: 3 October 2014
The subject of this Diploma Project concerns the creation of a Public Library. The inspiration for the design was the need to create such a building adjusted to modern needs as well as the desire to maintain the institution of  public libraries, although it is shaken the last years, because of a general tendency of digitization.
The city of Thessaloniki and particularly the area of Kalamaria was chosen for this purpose, due to the lack of such a building to meet the needs of its population. The placement of the building is on a corner site, at the junction of Georgiou Papandreou and Grigoriou Kidonion, near the building of the Prefecture.
The basic principles of design were: a) the urban fabric of the area, b) the height of the other buildings in the area and c) the slopping ground. This project proposes the creation of three volumes  - stripes, positioned so as to constitute a continuation of the urban fabric. These three stripes follow the slopping ground, either protruding slightly above it, or being part of it. The building consists of two parts which are separated by a passageway that connects the two streets G. Papandreou and G. Kidonion, while also it serves as the main entrance in these two volumes.
The size of a Public Library is determined by the population it serves. This Library has a capacity of 100.000 volumes with a possibility of renewal. These volumes are placed in 320 libraries-doubled sided, each of them has a capacity of 161 volumes and 23 volumes in each shelf. Each shelf is placed 0,30m. from the ground for adults and 0,20m. for children. The last shelves are height 2.06m. and 1.30m. respectively in order to access an average person.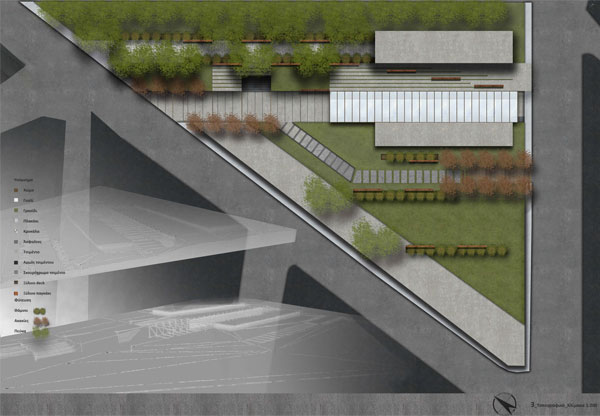 In the western volume is located the children's library while in the eastern is the reading room and a cafe. The reading room can accommodate 120 people. In a second level, five meters below  the earth's surface the bookshelves are stored, a depository of special editions a computer room as well as a multipurpose room. This room has the possibility to change its use and convert to a conference room or an exhibition area.