NEWS
EVENTS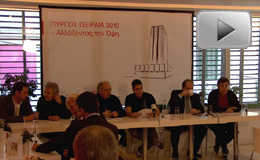 03 March, 2010
Piraeus Tower 2010. Press Conference
Event Presentation (photos and videos)
GreekArchitects.gr and DuPont Building Innovations announced the co-organisation of the open architectural ideas competition entitled "Piraeus Tower 2010-Changing the Face/Façade Reformation" on Thursday 25th of February 2010 during the Press Conference that took place at Fresh Hotel Athens.
In consequence to the Press Conference, a workshop and presentation of the innovative constructional materials of DuPont was also realized.
Analytically

Press Conference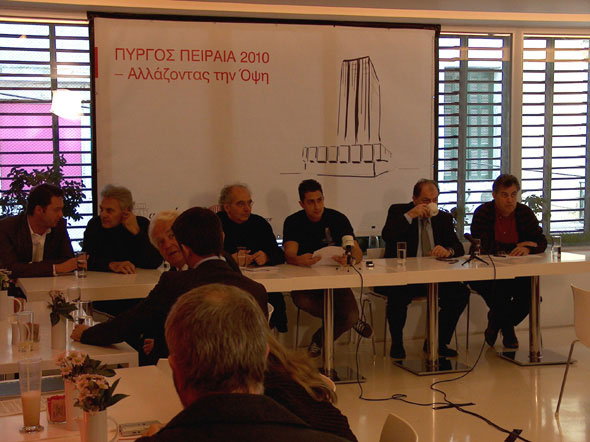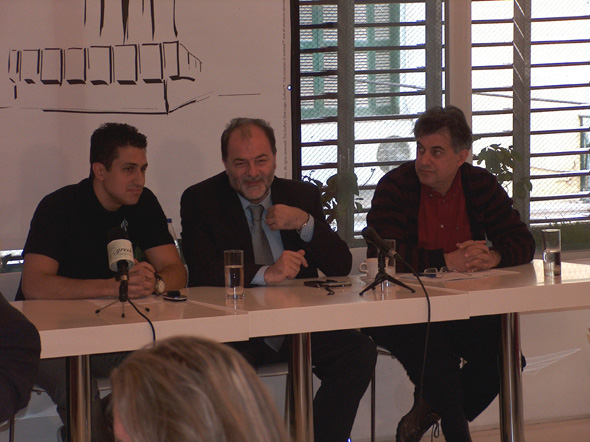 Press Conference. Photographs by Grigoris Maloukos.
During the Press Conference, Alexios Vandoros and Manolis Anastasakis made the introductory speeches. The architects and members of the organizational committee pointed out that the main purpose of the competition is challenge of dealing with an "urban void" that the tower creates and its integration in the urban landscape. Competition's initiative is not to start up a discussion about the (re-)introduction of tall buildings in the Greece, the speakers mentioned. Such discussions apparently will arise but it is not the main objective.

Vassilis Mistriotis, Greekarchitects.gr Editorial Manager, gave a short speech for his anxiety and will as architect himself to give solutions and for the purpose of Piraeus Tower "skin" reformation' and for GreekArchitects.gr competitions in general.
Continuing, Alexandros Tripodakis, professor at the Department of Architecture of the University of Crete, expressed his thoughts for the competitions, for the "flaws" of Greek community regarding the contemporary architectural environment and for the need of solutions concerning not only the building's reformation but the urban reformation and planning as well.
The representative of the municipality of Piraeus, Giorgos Oikonomopoulos was very encouraging in that the municipality is actively interested about the outcome of the competition. He announced the beginning of a new city plan that included the exploitation of the tower and inclined that where there may be a chance of the realization of a competition's proposal.
Nikos Kalogirou, professor at the Department of Architecture of AUTH and member of the jury committee, pointed out the important role of GreekArchitects.gr in the education and the process of architecture and connected it with the educational role of university. As for the tower issue, it does not concern the tall buildings but the integration of the building in the environment through the reformation of his surface and its exploitation as an important landmark of Piraeus.

The Press Conference was closed by Wlodzimierz Sobon, DuPont Building Innovations Representative for Central Europe. "Changing the Face" is a competition organized by DuPont with the purpose for architects to change the facade of buildings using Dupont surface coating materials. The competition run in many countries worldwide before they came to Greece and it started in Rome when they decided to change the face of The Colosseum!
Wlodzimierz Sobon (En)

You may see the whole exhibition only in greek edition (7 videos) >>>
Mega Sponsor:


Gold Sponsors:


Sponsors:
Communication Sponsors: