NEWS
GRA ACTIONS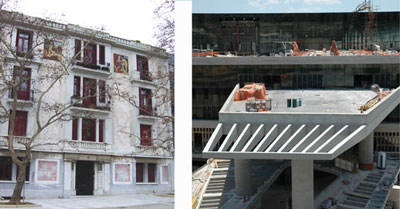 13 March, 2009
Αrchitectural competition
The architectural web site in Greece www.greekarchitects.gr invites architects, designers, artists and students all over the world to re-consider the aspect and re-design the back side of the listed buildings on the Dionyssiou Areopagitou str. No 17 & 19.
The members of the evaluation committee and greekarchitects.gr would like to thank all participants for the interest they showed. We received a total of 172 projects, created by 405 participants from 15 different countries. Due to the large amount of submissions, we decided to award 9 more projects with a special mention, 3 chosen by the members of the evaluation committee and 6 by the members of the organising committee of greekarchitects.gr
We now present you the awarded projects. Soon, you will be able to see all the submissions online. In addition, we are planning two exhibitions in Athens and Thessaloniki, which will take place in the fall, as well as a printed version of the entire competition procedure.
Again, thank you very much for your participation and congratulations to the award winners.
The organising committee of the competition,
M. Anastasakis, A. Vandoros, V. Mistriotis
See the awards here
See the projects that advanced to the 2nd phase of evaluation here
See all projects here
See the competition proclamation here