ARCHITECTURAL PROJECTS
OFFICE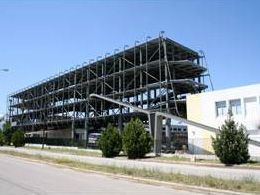 22 January, 2009
New headquarters for the "Alumil"
New headquarters for the  "Alumil" aluminium company in Kilkis industrial area, Greece
By A. M. Kotsiopoulos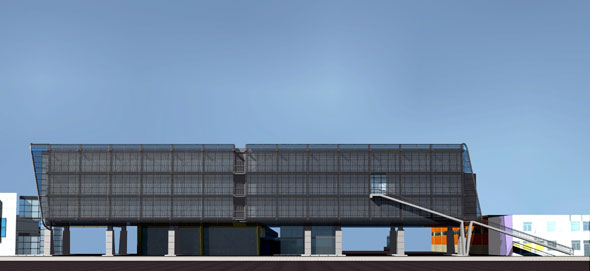 This new headquarters building for one of the largest industries of northern Greece is an addition to an existing office complex and is situated in the entrance of a large open space, being intensely used by the industry's main lorry traffic, carrying row material for the factory units. For that reason, combined with the very high seismic risk (zone 3, the worst in Greece), the building follows the pattern of a bridge and of a light structure with maximum uniformity of openings and use of aluminium.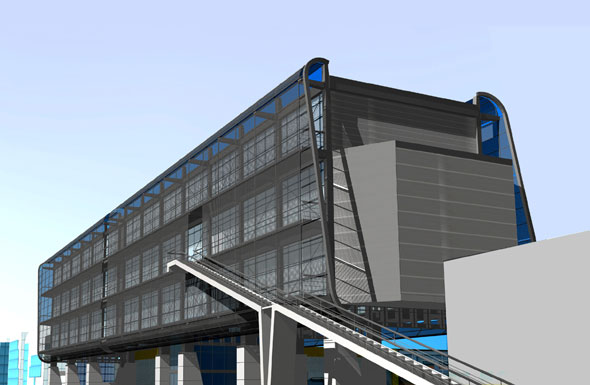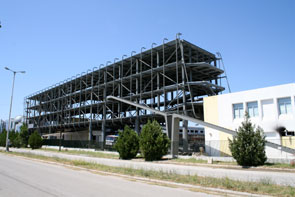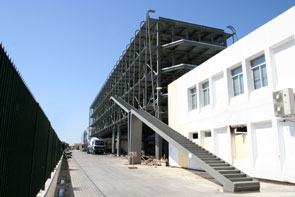 The building consists of a linear volume on steel columns protected by a composite skin. The parts of that skin are the following from the outside to the inside:

a) a continuous vertical 'curtain' of perforated aluminium screen at the end of the balconies,
b) a system of adjustable sun protection blades of aluminium, as a filter against the sun radiation from east and west,
c) a continuous horizontal stainless steel grid on the balcony in the full perimeter of each floor, functioning as a filter against the sun radiation from the south,
d) a double structural glazing window system (the so called 'solar structural glazing'), with internal natural ventilation, and
e) a system of horizontal movable internal louvers of perforated aluminium. Although in such a steel and glass building one expects to find results similar to those of high energy consuming buildings, the proposed design has managed to achieve at least 40% less energy consumption for space air-conditioning than in a usual full glass office building, 30% less than an office building that follows the local regulations for its building envelope and 15% less than a fully insulated brick building with a small glazing ratio.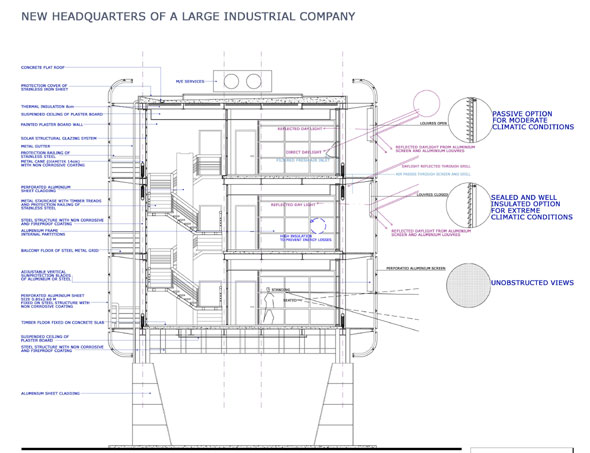 Awards and honours
The building has been awarded, by an international jury, one of the three equal prizes of the Mediterranean International Competition sponsored by U.I.A., the Hellenic Institute of Architecture and the companies ETEM and ELVAL (2003) for buildings with aluminium facades.
Project Details
Α. Kotsiopoulos and partners: A. Kotsiopoulos, E. Zoumboulidou, A. Panou
Collaborators: St. Zerefos, E. Chalkiopoulou
Bioclimatic design consultant: V. Kouvaki,
Civil engineers: H. Baniotopoulos, I. Lavasas, P. Zervas, G. Nikolaidis
E/M engineers: G. Lagos, K. Sarropoulos, 
Total built area: 2.000 sm
Project: 2001- 2003
Construction: 2004.