STUDENTS PROJECTS
PROJECTS2013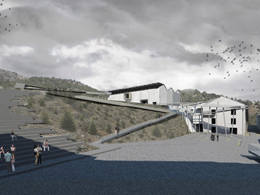 19 July, 2014
Restructuring the Industrial Landscape
The Technological and Cultural Park of Amiantos.
Student : Stavros Voskaris
Supervising professors : Mixalis Sioulas, Mixalis Georgiou, Zinonas Sierepeklis, Solon Xenopoulos
university of nicosia
Presentation date :  May 2013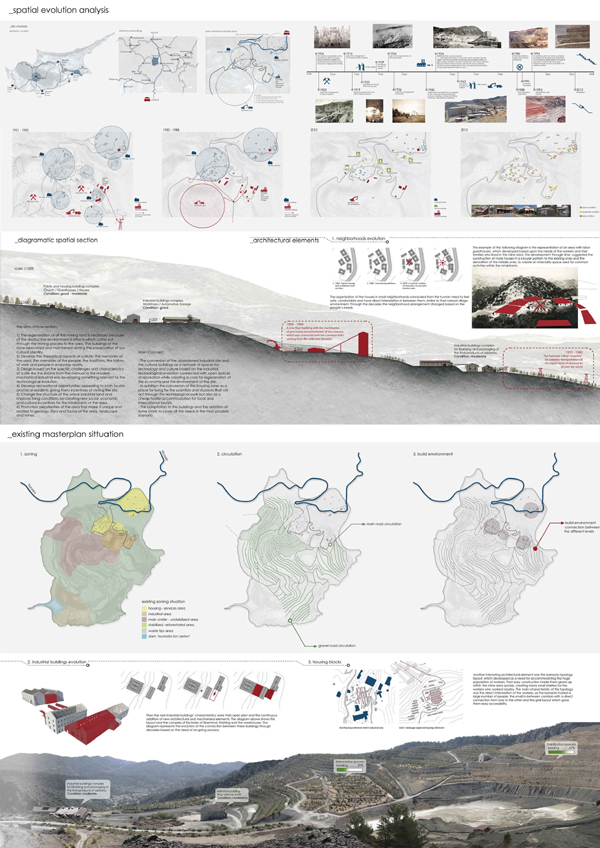 A lot of abandoned Industrial buildings and areas are spread all over Cyprus. Their surrounding areas and interior spaces are huge enough to offer places for different activities. Gaining the knowledge of the existed industrial re-utilized projects in Cyprus and all over the world we recognise their action as successful social condensers. My diploma project is analysing the regeneration of the mine of Amiantos as a Technological and Cultural Park. The main aim is to promote the Technology and the Culture which is defined by the traces of the mine of Amiantos. Within its gradually mechanization through decades from 1904 was acting as one of the first areas in Cyprus with such a massive technological evolution.
The main concept is the reformation of the working- living- socializing memory bringing back the idea of the pre-existed industrial city. The conversion of the abandoned industrial site and the cultural buildings as a network of technological and cultural spaces is based on the industrial and technological evolution. Passing through this experience is connected with open spaces of recreation while creating a core for regeneration of the economy and the environment of the site. In addition, converting the housing zone to a place for living for the scientists and students is developed also a cheap hostel accommodation for local and international tourists.
The rail tracks as the main circulation system of the mine within the years is becoming the design tool of my proposal. This is giving back the memory and the identity of the site, re-structuring the landscape and organizing the circulation and the activities scenario.
The aims of intervention:
1) Regenerating of the whole mining land is necessary because of the destructive environmental effects caused by the mining process. The renovation and maintenance of the buildings are aiming to the preservation of our cultural identity.
2) Developing the theoretical aspects of culture: the memories of the area, the memories of the people, the traditions, the history of work and people in everyday reality.
3) Designing based on the specific challenges and characteristics of the site, evolving  the manual to the modern mechanical industrial era and developing something relevant to the technological evolution.
4) Developing recreational opportunities appealing to both tourists and local residents giving them incentives of visiting the site.
5) Changing the structure of the wreck industrial land and improve living conditions by creating new social, economic and cultural incentives for the inhabitants of the area.
6) Promoting the peculiarities of the area to make it unique in relation to geology, flora and fauna of the area, landscape and mines.