STUDENTS PROJECTS
PROJECTS2013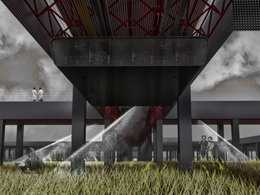 05 February, 2014
Decontamination and Production Mechanism
Port-industrial Zone of Drapetsona-Keratsini.
Student: Konstantinos Alexopoulos
Tutor: Panos Dragonas
University of Patras, Department of Architecture
Date: February 2013
The former industrial area of Drapetsona - Keratsini is one of the largest "terrain vagues" in Attica. A few industrial monuments have survived in the area that is awaiting for a new use since the late 1990's, when the fertilizer industry which was located there was shut down.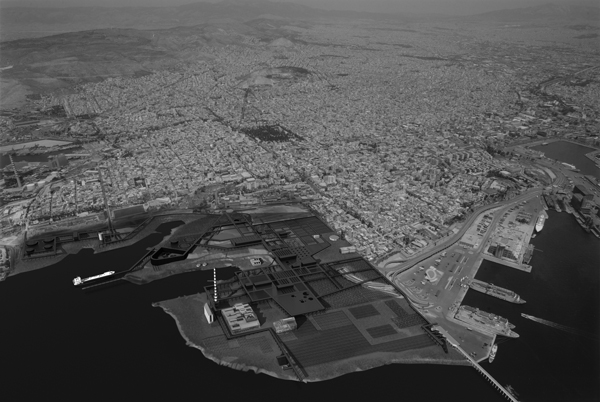 The project aims at the decontamination of the ground and the reactivation of the area. The actual economic and environmental needs of the broader city are taken into consideration through the investigation of new means of production for the 21st century city. The intervention is connected with the adjacent industrial zones such as the "Water Supply and Sewerage Company" and the "Public Power Corporation" of Keratsini.
The project consists of three parts:
(a)   The Ground interventions, which gradually absorb the soil's industrial chemical residues of the former producing units. These are the phytoremediation, a protective cap on the coastal zone and reed bed plants in clean areas for water filtration. At the time the plants are saturated by chemichals new ones replace them. The different chemical toxicity reveals the areas that are gradually cleaned and released through time.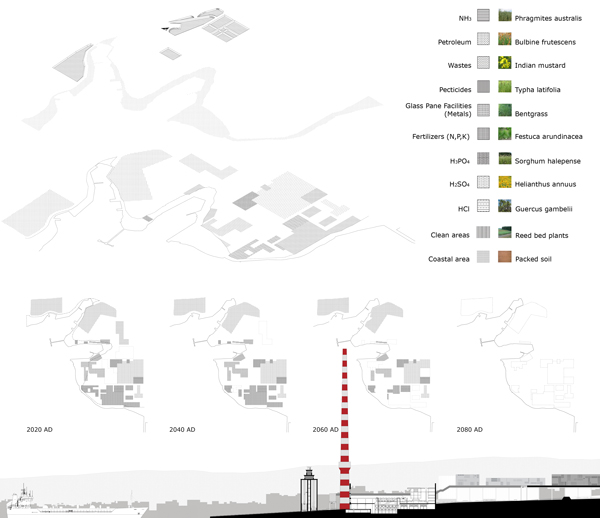 (b)  A new anaerobic digestion plant of residual products. These are saturated phytoremediation plants, community's organic wastes and sludge. Though the anaerobic digestion process, biogas is produced. Biogas could be transferred to the Electrical Company as well as to the ships at the Port of Piraeus.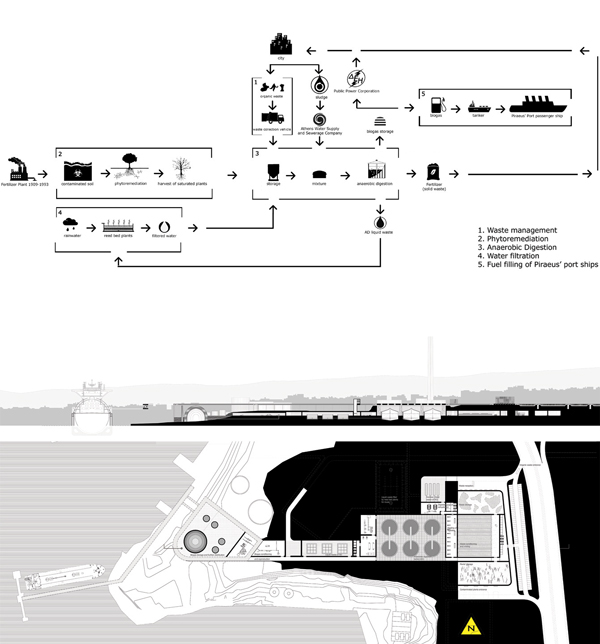 (c)   A new infrastructure, in the form of an elevated grid, which connects the interventions mentioned above. This is a system of transportation for the phytoremediation plants and the other products in the anaerobic digestion plant.
At the same time, this is a public space which permits the citizens and visitors to explore the landscape, observe the cleaning procedures, and visit the industrial monuments. The same infrastructure provides entrance to the site and is also extended to the adjacent productive units of Drapetsona.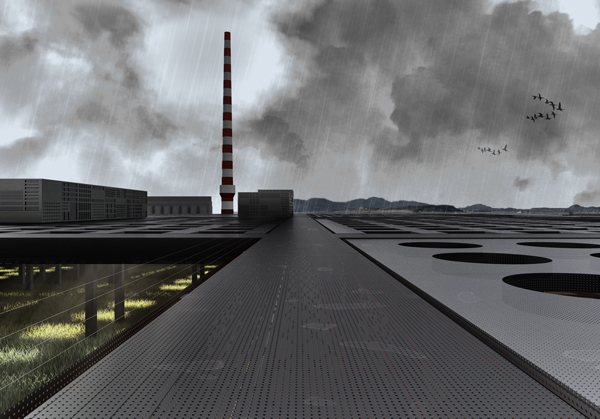 By the time that the contaminated areas are cleaned, the grid infrastructure may be removed so that the ground is ready to accept a new use.